The Budapest Sun: Business Story, 8. April 1999.
Rába factory back in bus business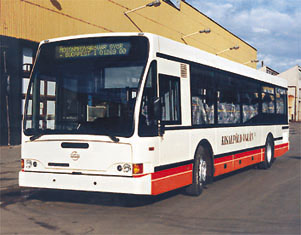 The bus-manufacturing arm of Rába, the Hungarian vehicle and axle maker, recently delivered its first batch of 10 buses to the Gyôr-based northwestern regional transport company Kisalfôld Volán. The vehicles were the first buses Rába had delivered in 50 years. The Rába-Contact buses are manufactured by license with Belgian bus and coach manufacturer Jonckheere NV. They have 41 seats capable of carrying 91 passengers. Rába is working on orders for 100 buses in 1999 but the company claimed it had capacity to build 120 a year. Recently national long-distance carrier Volán ordered 50 buses at Ft25 million ($109,000) a piece.
| | |
| --- | --- |
| Ĺrgang: | Type: |
| 19??-19?? | Alle modeller |
| 19??-19?? | - Contact 092 |
| 19??-19?? | - Contact 292 |
| 19??-19?? | - |
| 19??-19?? | - |
| 19??-19?? | - |
| 19??-19?? | - |