Pegaso was a Spanish brand of trucks, buses, tractors and armored vehicles, and, for a while, of impressive sport cars. The parent company, Enasa, was created in 1946 based on the old Hispano-Suiza factory, the chief technical manager being Wifredo Ricart, former designer of the Alfa Romeo 512, and fellow rival of Enzo Ferrari, who at the time also worked for Alfa Romeo.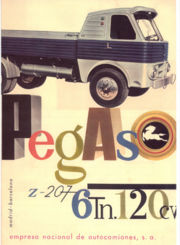 Pegaso built around one hundred high-end sports cars in the 1950s. These cars were powered by a DOHC desmodromic 32-valve V8 360 hp (270 kW) engine with multiple carburetors or optional supercharger. The top speed was clocked at 256 km/h (160 mph), making it the fastest car of the time; in 1951, Pegaso presented the Z-102, which exceeded the speed of the Ferrari autos, thus making it the world's fastest production car at the time. The cars were in many ways advanced for the time, they had all wheel independent suspension, 5 speed gearbox.

The other masterpiece out of Ricart's brain was the Pegaso Z-207 truck, in production from 1955 to 1959. It featured a splendid V-6 engine and a stylishly unforgettable cab, which equipped other Pegaso models along the 60s and 70s, really becoming a piece of the Spanish landscape. Unfortunately the Z-207 was expensive to build and to maintain and had to be replaced by the rather vulgar but successful Pegaso Comet, which included some Leyland components.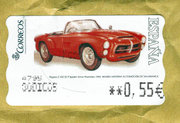 Enasa, a state owned company, had its main business interest in the truck and bus market. Therefore Pegaso became one of the leading European truck makers, with significant export activity both to Europe and Latin America. A failed association in 1978 with International Harvester resulted in Enasa taking over the British Seddon Atkinson. In the eighties an agreement with DAF, produced that the new heavy models of both makes, DAF 95 and Pegaso Troner, as well as the Seddon-Atkinson Strato, used the same cab.
Main Pegaso plants were located in Barcelona, Madrid and Valladolid.
Iveco took over Enasa in 1990, and shortly the Pegaso brand disappeared from the market. (kilde: Wikipedia)
| | |
| --- | --- |
| Årgang: | Type: |
| 19??-19?? | Alle modeller |
| 19??-19?? | |
| 19??-19?? | - |
| 19??-19?? | - |
| 19??-19?? | - |
| 19??-19?? | - |
| 19??-19?? | - |