A RICH HERITAGE IN COACH BUILDING EXCELLENCE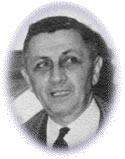 In 1933, Winnipeg repair shop owner Harry Zoltok introduced his first vehicle design, an 11-passenger body on a Packard chassis, sketched for his workers on the factory floor. It was that moment that the company then known as Fort Garry Motor Body and Paint Works Limited began a journey of growth and innovation.
Harry Zoltok
Founded MCI in 1933
The company took the name Motor Coach Industries in 1941, and remained a small regional builder of coaches until 1948, when Greyhound of Canada acquired 65 percent of the company. Ten years later, in 1958, Greyhound Lines of Canada Ltd., acquired the entire company, leading to some of the greatest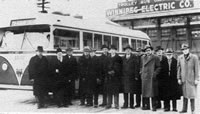 advancements in models ever including the very first 40-foot coach, the MC-6, which evolved into the MC-9, the nation's all-time best-selling coach until recently, when it was displaced by the MCI D-Series. In 1994, Grupo Dina of Mexico bought MCI and embarked on a new era in motor coach manufacturing with the 1997 launch of the luxurious E4500 and the development of another model for Greyhound, the G4500. In June 1999, MCI was acquired by its current majority owners JLL Partners (Joseph Littlejohn & Levy), a leading private equity investment firm. In 2003, MCI invested $40 million (U.S.) in the expansion of its Winnipeg ISO-certified plant and moved the production of the G4500 from its former Mexico plant to Winnipeg, integrating the model into the E4500/J4500 mixed-platform line.
Today, with headquarters in Schaumburg, Illinois, and plants in Winnipeg, Manitoba, and Pembina, North Dakota, Motor Coach Industries is North America's leading manufacturer of intercity coaches serving charter and tour operators; line-haul and scheduled-service operators; transit agencies; and conversion companies. With more than 2,000 employees, MCI also operates seven sales centers and nine MCI Fleet Support service centers and is a leading supplier of coach and bus replacement parts.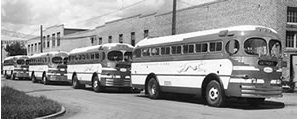 | | |
| --- | --- |
| Årgang: | Type: |
| 19??-19?? | Alle modeller |
| 19??-19?? | - Luxury Coaches |
| 19??-19?? | - Public Sector Coaches |
| 19??-19?? | - Conversion Coach Shells |
| 19??-19?? | - |
| 19??-19?? | - |
| 19??-19?? | - |