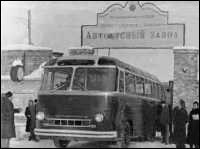 Trademark of the "Lvivsky av-tobusny zavod" has been widely known at domestic and interna-tional market for almost 60 years. Such an estimable age is a sign of stability, credibility of the trademark "LAZ", and reasonableness of its development strategy.
21 May 1945 is considered to be the foundation day of the Lvivsky avtobusny zavod. Its production areas were built during almost ten years and, in parallel, industrial products i.e. full trailers, shop-vans, truck-mounted cranes, etc. were produced. But in 1956 already, pilot workshop produced the first model of LAZ-695 designed by factory's specialists, and the next years sow its full-scale production. At that time, that bus had no analogues in the former USSR. Since then, the factory has become the leading domestic bus producer. New models and components were developed and introduced while existent ones were upgraded. The fact that Lvov buses were popular is confirmed by that even outer space industry of the Soviet Union could not get along without products of Lvov masters. Just Lvov buses brought practically all astronauts and their alternates to the launch site.
In crisis times for Ukrainian economy, the Lvivsky avtobusny zavod experienced hard periods as well. But even, under such conditions, it continued developing. Its workers did everything possible and impossible for that. Thus, in 1994, at the basis of the plant, the open corporation "Lvivsky avtobusny zavod" was created whose majority holding belonged to the State Property Fund of Ukraine.
The status of a collectively-owned fully privatized enterprise was acquired by the plant only in 2001. Such a short period of time which elapsed thereafter witnessed outstanding changes at the plant. In the light of the real state of affairs at the market, the new Board of Directors took the decision on introducing universal technologies and enlarging the list of new products to be manufactured. Those were researches and developments and the newest technologies that allowed organizing the production of principally new unified family of promising LAZs.
Lvov was the first in Ukraine to start assembling the body for the future cruiser with its own hands. Carcass assembly works are traditional for the plant. Unlike riveted ZIS and later ZIL constructions, the first Lvov buses were welded ones. In the sixties, PATON Institute, especially for Lvov bus builders, developed the technology for welding carcass constructions in carbonic acid environment, which turned to be a real breakthrough in the domestic machine-building industry. Pipe-cutters for the carcass, pipe phosphotization, special devices and reliable welding, modernized carcass jig constitute the basis for reliability and viability of products produced by Lvov masters.
(kilde: Wikipedia)
| | |
| --- | --- |
| Årgang: | Type: |
| 19??-19?? | Alle modeller |
| 19??-19?? | - NeoLAZ 5208 |
| 19??-19?? | - NeoLAZ A183 "Citi" |
| 19??-19?? | - NeoLAZ AX183 "Airport" |
| 19??-19?? | - Liner 10 |
| 19??-19?? | - Liner 12 |
| 19??-19?? | - |