IC Corporation is a builder of school buses in the United States which was established in 1933. Now it produces its own chassis and bodies and is a wholly owned subsidiary of International Truck and Engine Corporation.
Originally known as the Ward Body Works, the company became known as American Transportation Corporation (AmTran) in 1980. Beginning in the 1990's and over several years, Navistar purchased an increasingly controlling interest in AmTran.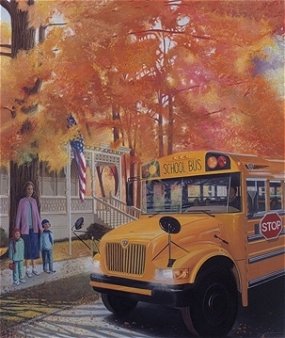 In 2000, AmTran introduced the IC, a fully integrated conventional school bus. The first models were badged "AmTran", although within a months, the buses were badged "International" with the company taking on the identity "International Bus" from late 2000 to 2001 model years.
For 2002, the company's name changed yet again to IC Corporation and the new conventional bus was re-introduced as the IC CE.
IC's current school bus models include the CE, as well as the "BE" small bus, the Type-D "RE" rear-engine bus, and the Type-D "FE" front-engine bus. The new commercial line consists of the BE, plus four recently introduced models: the low-floor "LC" series, the medium-duty "HC" series, the front-engine "FC" series, and the rear-engine "RC" series. All IC buses are powered by either of the following International engines: the VT365 V8, the DT466 straight-6, or the DT466E high-torque straight-6.
| | |
| --- | --- |
| Årgang: | Type: |
| 19??-19?? | Alle modeller |
| 19??-19?? | - CE200/CE300 Type-C conventional bus |
| 19??-19?? | - RE200/RE300 Type-D rear-engine bus |
| 19??-19?? | - FE300 Type-D front-engine bus |
| 19??-19?? | - BE200 Type-C small bus |
| 19??-19?? | - LC low-floor commercial bus |
| 19??-19?? | - HC medium-duty commercial bus |
| 19??-19?? | - FC front-engine commercial transit bus |
| 19??-19?? | - RC rear-engine commercial transit bus |