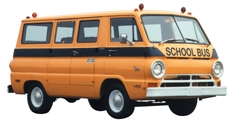 Lionel Girardin founded the "Girardin" company in the 1940's; he first established his used car sales and general mechanics business in St-Felix-de-Kingsey, Quebec.

A few years later, in 1958, the Girardin family obtained its first contracts to transport students and moved into the sale of school buses. Business grew rapidly and in 1965, needing larger premises, moved the company to its present location in Drummondville. A parts and service department was later annexed to meet the needs of customers and to compliment the after-sales service.

In 1965, the business was further expanded by the addition of a minibus transformation operation.

In 1981, a state-of-the-art assembly plant began operations.

In 1991, a modern assembly plant was built beside the corporate office to launch the new MB-II and MB-IV minibuses. The plant now consists of 101,000 sq.ft. (85,000 production and 16,000 office space).

The MB-II and MB-IV series have made their mark in Canada and the United States and are sold through its network of distributors.

In 2005, Girardin Minibus introduced the new G5 dual rear wheel Type A bus. The new G5 is a high -quality product which facilitates maintenance and keeps with the company's trademark design flair. The G5 which stands for "fifth generation" can accommodate up to 30 passengers and offers plans for a variety of applications.

Since the start of operations, over 25,000 buses have been built and sold and Girardin knows that the secret of its success is based on the following principles: quality products, quality service and quality employees.

| | |
| --- | --- |
| Årgang: | Type: |
| 19??-19?? | Alle modeller |
| 19??-19?? | - |
| 19??-19?? | - |
| 19??-19?? | - |
| 19??-19?? | - |
| 19??-19?? | - |
| 19??-19?? | - |