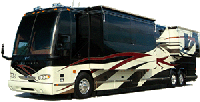 A division of Featherlite ®, Inc., Featherlite Luxury Coaches ® manufactures two distinct luxury coaches, the Featherlite Vantaré® H3-45 and Vantaré® XLII, both Prevost® bus shell conversions that offer travelers the utmost in luxurious living accommodations, interior choices and leading-edge technological features.

Since the mid-90's, Featherlite has been manufacturing luxury coaches at its facilities in Sanford, Fla., home of the division headquarters. In addition to its operations in Sanford, Featherlite maintains sales and service centers in Cresco, Iowa, Pryor, Okla., and Mocksville, North Carolina. With these and 16 authorized service centers strategically located throughout the United States, Featherlite Luxury Coaches serves the needs of coach owners regardless of their brand affiliation.

Featherlite coach owners are encouraged to become involved in all aspects of planning and designing their new custom luxury coach. At Featherlite Luxury Coaches, coach customers have over 200 amenities and state-of-the-art options to choose from as they create a one-of-a-kind luxury coach designed to accommodate their every need.
In addition to the option of space-expanding slide-outs, a customer's options include up to 50-inch retractable plasma TVs, elaborate internal and external entertainment systems, acrylic laminate cabinets, leather seating, Corian countertops, brass and etched glass showers, touch screen remote systems, in-motion satellite systems, underbays complete with TVs, refrigerators and grills and many more amenities.

Besides personal luxury coaches, Featherlite also designs and manufactures coaches in corporate and executive models. In addition, Featherlite offers highly specialized, self-contained command and control vehicles customized for first-responders.

Featherlite Luxury Coaches is the "Official Coach" of NASCAR, Grand Am Road Racing and Super Boat International.

| | |
| --- | --- |
| Årgang: | Type: |
| 19??-19?? | Alle modeller |
| 19??-19?? | - Vantaré H3-45 |
| 19??-19?? | - Vantaré XLII |
| 19??-19?? | - |
| 19??-19?? | - |
| 19??-19?? | - |
| 19??-19?? | - |