Bluebird bus corporation manufactures its own chassis and bodies. World wide they are one of the largest bus dealing companies and have a wide network of facilities in the US. They currently employ about 1800 people and have been doing business for slightly over 8 decades. Their service covers made to order bluebird buses, but also sell new bluebird buses premade. They offer bus parts and financial services. Their focus is bluebird school buses, and these bluebird buses are built with the highest safety standards. Bluebird also provides service to Canada and the provinces of Alberta and British Columbia. They are largely a US based company but as time goes on they are expanding internationally.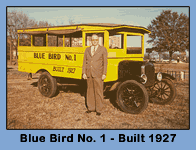 Bluebird buses first bus was a school bus built in 1927. From their they expanded to an entire school line, and about 4 decades ago (circa 1963) they broke out into the motorcoach industry with the Bluebird Wanderlodge. Following their success with the Wanderlodge coach, the transition to commercial buses was relatively seamless for Bluebird, due to the wealth of their knowledge and experience in the school transit market. By the early 90's, their transition was complete with a plan to cover bus manufacturing for all commercial sectors, including transit buses, tour buses, shuttle buses, and charter buses. They continue to perform well in their market, which now covers virtually all products and services in the bus market. If you are looking for a new bus for a school, bluebird buses is a good place to start.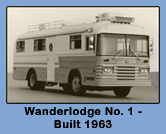 Building on the success of its school bus line, Blue Bird expanded its vision. More than thirty years ago, the company set its sights on the motor coach market and created a product that continues to deliver luxury travel at its best. The Blue Bird Wanderlodge motor coach provides an exquisite means of transportation.
Blue Bird's knowledge and experience in the school bus and motor coach markets made for a smooth transition into the commercial bus segment. In the early 1990s, Blue Bird developed a plan to provide customized, innovative and economical buses to all sectors of the commercial market - transit, shuttle, and tour/charter.
Blue Bird Corporation continues to set industry standards with its innovative design and manufacturing of school buses, commercial buses and motor coaches. More than seventy-five years later, Blue Bird has grown to nearly 3,000 employees and three facilities in two countries. (kilde: buses for sale online)
| | |
| --- | --- |
| Årgang: | Type: |
| 19??-20?? | Alle modeller |
| 19??-20?? | |
| 19??-20?? | |
| 19??-20?? | - Bluebird TC200 |
| 19??-20?? | |
| 19??-20?? | |
| 19??-20?? | |
| 19??-20?? | - |
| 19??-20?? | - |