Mitsubishi Fuso - 1980 was a year when the economy finally overcame the second Oil Shock and economic expansion was expected once again. The need for sightseeing buses continued to escalate.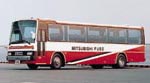 In parallel with the development of the next new buses, Fuso announced the full-decker

MS615S, designed in the European cubic style.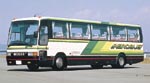 In 1982, the "AERO BUS", a new MS series that drastically changed the image of sightseeing buses, was born. This was the first bus manufactured in the cutting-edge manufacturing facility that had just been completed within the [Nagoya Automobile Work's Oe Plant].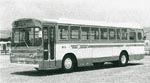 Around 1975, route buses were increasingly being operated by one person. Improvements were made to the specifications of these buses, which can be seen in the air-conditioning and low floor of the MP117M model.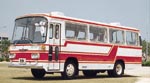 Mitsubishi Fuso's mid-size buses had captured 69.7% of the market in 1970. In 1974, the MK Series was born, and a radically changed MK116 went on sale in 1979.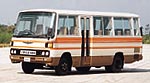 In 1978, the vehicle length of rental cars was restricted to 7 meters or less. Mitsubishi Fuso responded in 1981 with the Rosa BK small-size bus.
(kilde: Mitsubishi Fuso)
| | |
| --- | --- |
| Årgang: | Type: |
| 19??-19?? | Alle modeller |
| 19??-19?? | - Fuso Rosa |
| 19??-19?? | - Fuso Rosa CNG LEV-7 |
| 19??-19?? | - Fuso ME (Aero Midi) |
| 19??-19?? | - Fuso MJ (Aero Midi) |
| 19??-19?? | - Fuso MK (Aero Midi) |
| 19??-19?? | - Fuso MM (Aero Bus) |
| 19??-19?? | - Fuso MP (New Aero Star) non-step Diesel & CNG |
| 19??-19?? | - Fuso MS (Aero Bus/Aero Queen) |
| 19??-19?? | - Fuso MU (Aero King) |
| 19??-19?? | - Fuso Aero Star Low-emission Diesel (LEV-7) |
| 19??-19?? | - Fuso BM (Chassied Bus) |
| 19??-19?? | - Fuso RK (Chassied Bus) |
| 19??-19?? | - Fuso RP (Chassied Bus) |