MAN AG - (formerly called Maschinenfabrik Augsburg-Nürnberg AG) is a German transportation company. The MAN Group is mostly known for producing buses and trucks though the group is primarily involved in engineering activities. MAN specialises in:
Commercial vehicles

Diesel engines

Turbomachines

Industrial services
The company has roots that go back to 1758 where it was the first iron works in the Ruhr region. Today it is one of Europe's leading manufactures of engineering equipment and vehicles. In 2005, its 60,000 employees generated annual sales of around € 15 billion in 120 different countries. It is continuously trying to strengthen its market presence and has joint ventures and other cooperations with local companies in India, Poland, Turkey and the United States.
MAN is listed on the DAX and is well respected in the field of transport engineering, having won numerous prizes. The latest ones achieved were in 2006 with the title "Truck of the year" and "coach of the year".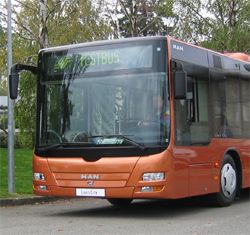 On 18 September 2006, MAN made an offer for a takeover of Scania AB, one of the world's leading truck and bus as well as industrial and marine engine makers. If the merger sees fruition, they would become Europe's biggest truck maker. Volkswagen AG, Scania's largest shareholder, acquired a stake of 15.1% of MAN. It is expected that a combined Scania-MAN will also absorb Volkswagen's Brazilian Heavy Truck operations (but not the European Van operations, which VW will retain). Volkswagen is expected to have a blocking minority stake of 25.1% in the merged entity.
MAN Nutzfahrzeuge AG (roughly 50% of overall sales; 88% of division sales come from European market)

Commercial vehicles: trucks (61% of group sales), aftermarket parts and service (18%), buses (14%), engines and components (7%)
2-stroke and 4-stroke diesel and gasoline engines: large marine and stationary diesel engines, engines for vehicles, industrial applications, power stations, yachts, passenger ships, ships, and work-boats (tankers, tugboats, icebreakers), railways.
Turbomachines: compressors and turbines for process industry and power generation worldwide; used in oil & natural gas, refinery, chemical & petrochemical, fertilizers, industrial gases, iron & steel processing and mining, power generation applications.
MAN Ferrostaal AG (roughly 20% of sales)

Industrial services: projecting, delivery, assembly, including steel-based structures (kilde: Wikipedia)
| | |
| --- | --- |
| Årgang: | Type: |
| 1957-19?? | |
| 1957-19?? | |
| 1961-1970 | |
| 1961-1973 | - 750 HO M11(A) ("Metrobus") |
| 1961-1970 | |
| 1965-19?? | |
| 1969-1972 | |
| 1970-1972 | |
| 1970-1972 | - 890 SG |
| 1972 | - SÜ 230 |
| 1972 | - SL 160 |
| 1972-1973 | - SL 195 |
| 1972-1976 | - SL 192 |
| 1972-1980 | - SG 192 |
| 1973-1985 | - SL 200 |
| 1973-1985 | - SD 200 |
| 1973-1992 | - SÜ 240 |
| 1976-1984 | - SG 220 |
| 1980-19?? | - SR 240 |
| 1980-1985 | - SG 240 H |
| 1980-1985 | - SG 242 |
| 1981/1983 | - D 80 |
| 1982-1985 | - SG 280 H |
| 1982-19?? | |
| 1985-1995 | - SL 202 |
| 1986-1992 | - SD 202 |
| 1987-1992 | - SÜ 242 |
| 1987-1992 | |
| 19??-19?? | - ÜL 242 |
| 19??-19?? | - NM 152 |
| 1988-1998 | |
| 1989-1995 | - NG 272 |
| 1992-1995 | - SÜ 272 |
| 1994-1995 | - ND 202 |
| 1996-1998 | - SÜ 312 |
| 1996-1999 | - NG 312 |
| 1997-20?? | - MANAS SL 222/223... |
| 1998-2004 | - A 21 [NL 223-313, NL 243/313 CNG] |
| 1999-20?? | - A 26 [NL 262/313/353/363] (15m) |
| 1999-2003 | - Lion's Classic Ü - SÜ 223/263/313/363 - ÜL 313/353 |
| 19??-19?? | - Americana city bus |
| 19??-19?? | - Lion's City CNG - NL 233/313 CNG |
| 19??-19?? | - Lion's City G CNG - NG 233/313 CNG |
| 19??-19?? | |
| 19??-19?? | |
| 19??-19?? | - NL 243 GPL (GPL-motor) |
| 19??-19?? | - NM 152E, NMT 223, NGT 253 (elmotor) |
| 2004-20?? | - Lion's City M - NM 223/ 283 (max. 61 passagerer) |
| 20??-20?? | - Lion's City Single - NL 283 (max. 102 passagerer) |
| 2004-20?? | - Lion's Regio - NL/ÜL 313/363 F (LF) |
| 2004-20?? | |
| 19??-19?? | - NL 262 R |
| 19??-19?? | - Lion's City G - NG 263/313/363 F (LF) (max.173 pass.) |
| 2004 | - Lion's City DD - Prototype |
| 2004-20?? | - Lion's City - NL 223/263/313 (max. 104 passagerer) |
| 20??-20?? | |
| 20??-20?? | |
| 20??-20?? | |
| 20??-20?? | |
| 19??-20?? | - 10.225 FOCL midi coach |
| 19??-20?? | - 12.220 HOCL |
| 19??-20?? | - 14.280 HOCL |
| 19??-20?? | - 12.220 HOCL-NL |
| 19??-20?? | - 14.220 HOCL-NL |
| 19??-20?? | - 18.220/ 260/ 280 HOCL-SL |
| 19??-20?? | - 18.220/ 260/ 280/ 310/ 360 HOCL-SÜ |
| 19??-20?? | - 18.220/ 260/ 310 HOCL-NL (LF) |
| 19??-20?? | - 18.260/ 310/ 360/ 410/ 460 HOCL |
| 19??-20?? | - 24.310/ 360/ 410/ 460 HOCLN |
| 19??-20?? | - 28.310 HGOCL |
| 19??-20?? | - R 292 |
| 19??-20?? | - FRH 362 |
| 19??-20?? | |
| 19??-20?? | |
| 19??-20?? | |
| 19??-20?? | |
| 19??-20?? | |
| 19??-20?? | |
| 19??-20?? | |
| 19??-20?? | - MAN |
| 19??-20?? | - MAN |
| 19??-20?? | - MAN |
| 19??-20?? | - MAN |
| 19??-20?? | - MAN |
| 19??-20?? | - MAN |